Sake to me! Fungi's Sake Journal
---
Fungi likes to drink good, cold, dry sake. This page is mostly meant as a reminder for him of the sakes he's tried and whether they were worth having again. If your tastes are similar to his, you might find it useful too (or you might discover he has the World's worst palate for this sort of stuff, who knows?).
The List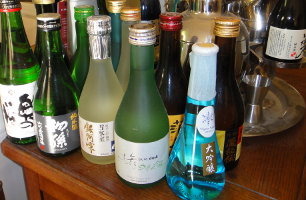 I've been drinking a lot of sake for many years now; at the moment I've amassed a large collection of good sakes and have only just started recording my impressions here, but until I get through them this will probably be on the sparse side. Also my palate is not terribly developed, so I have trouble picking out many of the more nuanced details of flavor and aroma I see mentioned in others' reviews.
Bunraku Nihonjin No Wasuremono "Forgotten Japanese Spirit" Yamahai Junmai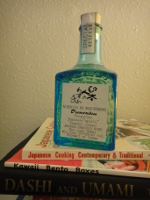 Review forthcoming...
Daikoku-Masamune "Infinite Wisdom" Junmai Ginjo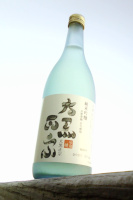 Pleasantly balanced with just the slightest hit of acidity, this is brewed in Kobe, Hyogo Prefecture.
Fudo Myoo Junmai Ginjo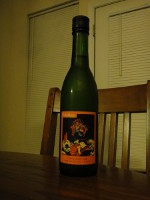 A very gamey flavor for this style. I found it sweeter than the label seemed to imply, almost cloying after only a few sips... it's probably to someone's tastes, but not mine I'm afraid.
G Joy Genshu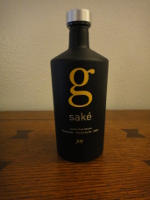 Probably my favorite sake so far, and it's not even an import. This one is very dry. It's not really so strong as I'd expect for a genshu (only around 15%ABV), and remarkably smooth. I highly recommend it, and regularly order a case. I first tried it at Kanki in Durham, NC but have a hard time finding it elsewhere. Recently, Taiko in Nags Head has been keeping it on their menu, and Trio in Kitty Hawk has been happy to order me cases through Momokawa.
Hananomai Sake-Katana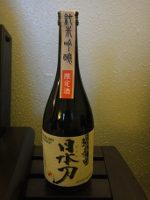 Great name, great sake. Very clean and crisp import with no significant aftertaste. Unfortunately the bottle was only one masu--wish I had more. Can't remember where I picked it up, probably A Southern Season in Chapel Hill, NC. The rest of the label is in Japanese so I don't have a lot of additional info. UPDATE: I've found 750ml bottles of this at Trio in Kitty Hawk, NC. Excellent and dry as ever!
Hatsumago Junmai
Dry enough but not as smooth as I prefer--for the price there are domestics I would drink over this import.
Kanbara "Bride of the Fox" Junmai Ginjo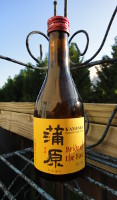 Imported from Kaetsu Shuzo in Niigata Prefecture, made with Gohyakumangoku rice, it's not bad... a little sweeter than I like and somewhat harsh/gamey for the purported style. I found this one at A Southern Season in Chapel Hill, NC.
Kasumi Tsuru (The Crane of Kasumi) Kimoto Extra Dry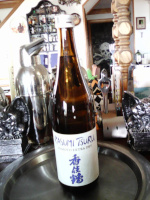 A Kimoto style brew from Kasumi in the Hyogo Prefecture, this wasn't quite as dry as the name would seem to imply but it does have great flavor: clean with subtle complexities.
Kibo Junmai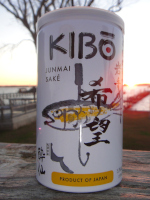 A holiday gift from my wife, Christine, the can indicates this was produced to commemorate the restoration of the Suisen Shuzo brewery destroyed by the earthquake and tsunami of 2011. Brewed on the original site in Iwate Prefecture from Kitakami rice in the Iwate no Jizake craft style, I'm having trouble adequately describing the flavor but it's medium-dry with a clean finish and nice mouthfeel. Very nice.
Miyosakae Tenmi Junmai Daiginjyo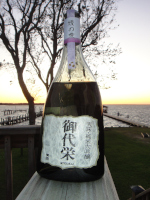 This one's brewed by Seiryo Shuzo in Ehime Prefecture. I received it as a celebratory bottle to commemorate the creation of the Open Infrastructure Foundation. Smooth and crisp, for a daiginjo it's a little on the fruity side and not quite as sweet as I feared it might me. Would drink again!
Kikusui Organic Junmai Ginjo
The first import I've found labeled USDA Organic... most traditional Japanese breweries insist on high enough standards for their ingredients and processes that they'd easily qualify, but they generally don't see a real benefit to applying for the label. This is quite pleasant and smooth, unlike the SCB domestic organic variety. A marvellous sake and I would stock up given the opportunity, but so far I've only encountered it at Waraji in Raleigh, NC.
Mizbasho Ginjo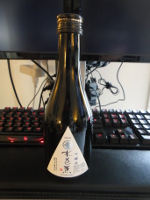 From Nagai Sake in Tone, Gunma... a little sweet and crisp, but still slightly fruity. Not bad! I find this from time to time in restaurants (including Waraji in Raleigh, NC) but also for sale at Trio in Kitty Hawk, NC where I picked up this particular bottle.
Mukune "Root of Innocense" Junmai Ginjo

Great Osaka import brewed from Yamada Nishiki rice by Daimon Brewery. Clean, slightly fruity but not too sweet. Also, I got a big bottle for a change. Tasty!
Naginata Junmai Daiginjo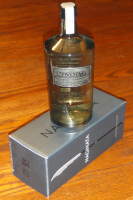 Small batch craft brewed from American grown Yamada Nishiki rice by Sake One in Oregon, it takes its name from a medieval Japanese polearm. This was bottle 474 out of 659 from batch #2, a generous gift from my friend Clark who lives not far at all from the brewery. Surprisingly flavorful for a daiginjo, you really catch the fruitiness of the koji, with an almost banana-like finish. This is one excellent beverage, highly recommended!
Nanbu Bijin "Southern Beauty" Junmai Ginjo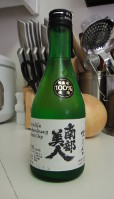 A clean, barely tart and somewhat fruity import made with Ginginga rice by Nanbu Bijin Shuzo out of Iwate Prefecture. This is one of my favorites and I used to be able to find it regularly at Earth Fare, but lately I've only been able to get it at Whole Foods.
Niigata Kiminoi "Emperor's Well" Junmai Ginjo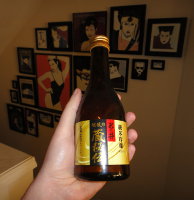 This import's pretty tasty--dryish with a slightly yeasty smell. Brewed by Kiminoi Shuzo.
Niigata Koshino-Omachi Daiginjo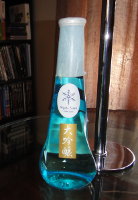 Slightly sweeter than I would prefer, but still absolutely one of the best imported sakes I've had. It's remarkably clean and crisp tasting, smooth but still a bit of an alcohol flavor (according to the label it's 16-17%ABV so climbing up into the range of genshu). I'm usually able to find it at A Southern Season in Chapel Hill, NC and try to keep it on hand for entertaining any sake-appreciating guests. Waraji in Raleigh, NC has also started carrying it on their regular list.
Ninki-Ichi "Kuro-Ninki" Junmai Ginjo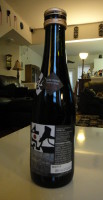 Quite tasty, a little tangy and grapey... imported from Ninki in Fukushima Prefecture (no, it wasn't glowing when I poured it). Would drink again. I think I found this one in the wine section at World Market.
Okunomatsu Tokubetsu Junmai Nama Chozo Shu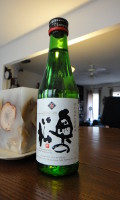 A little sweet with a distinct alcoholic harshness, but still finishes very cleanly. Imported from Okunomatsu in Fukushima Prefecture, traditionally brewed from local ingredients. If memory serves, I picked this one up at A Southern Season in Chapel Hill, NC.
Ozeki Karatamba "Dry Wave" Honjozo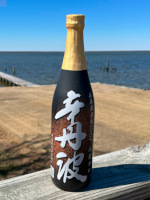 Quite possibly the driest sake I've ever sampled, crisp with a clean finish. Brewed in Hyōgo Prefecture from Yamadanishiki rice, this bottle was generously supplied by my employer in celebration of another year supporting open infrastructure.
Shimizu-No-Mai "Pure Dusk" Junmai Daiginjo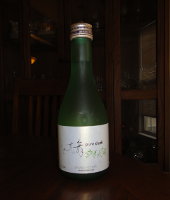 A good (but not great) selection from the Akita Shurui Seizo brewery. For supposedly being junmai daiginjo, it's a bit on the harsh and gamey side... still fruity and fairly clean but not one I would be likely to buy very often.
Sho Chiku Bai Organic Nama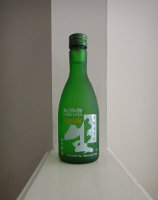 This domestic sake is a staple in my refrigerator. It's a fairly inexpensive domestic with a slightly funky modestly fruity flavor. SCB is often referred to as The Budweiser of Sake and I usually don't go near the stuff, but this particular variety of theirs is not so bad. At the moment it's still one of the only easily-obtainable sakes labeled as organic in the USA. Don't let the claim to be a nama sake fool you though... while it is unpasteurized, it's still shelf-stable due to microfiltering and as such it shouldn't qualify as a real nama. I first tried it at Waraji in Raleigh, NC and found it to be to my liking, though nowhere near the best on their list. Since then the Earth Fare where I usually do my grocery shopping has started stocking it regularly, and I've begun to see it at a number of other places as well.
Takasago Ginja Shizuku "Divine Droplets" Junmai Daiginjo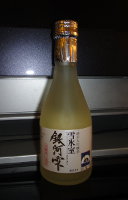 A clean-tasting import from Hokkaido, made from Yamada Nishiki. I found a bottle at A Southern Season in Chapel Hill, NC. It's a good representative of its style and I would drink it again, but it's a bit pricey.
Tentaka Kuni "Hawk in the Heavens" Junmai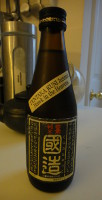 A fairly smooth but yeasty import made with Gohyakumangoku rice by Tentaka Shuzo out of Tochigi Prefecture. This is another of my favorites and I used to be able to find it regularly at Earth Fare, but lately I've only been able to get it at Whole Foods.
Tozai "Living Jewel" Junmai
A fairly easily-obtained import, made in Kyoto from Koshihikari rice... this is a pretty good sake (not great, but good). It's a bit fruity and somewhat dry but just ever so slightly harsh. I'm also able to find this one at Earth Fare most of the time, so I usually tend to keep a bottle of it on hand.
Tozai "Voices in the Mist" Ginjo Nigori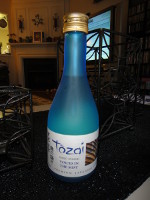 I'm not normally a fan of nigori as I tend to find it far too sweet, but this one could convert me. It's actually quite dry and smoother than I expected. I found it at A Southern Season in Chapel Hill, NC and will absoutely obtain more the next time I see a bottle.
Ty Ku Silver Junmai

This import comes in an interestingly-shaped bottle... that's usually a bad sign. Rough and a little sharp with a slight banana aftertaste. Brewed in Nara using Akebono rice. Probably not one I would get again.
Yoshi No Gawa "Winter Warrior" Junmai Ginjo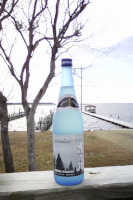 Light bodied and mild, with a bit of fruitiness from the koji. Overall a great selection, brewed by Yoshinogawa in Niigata Prefecture from Gohyakumangoku rice and Niigata Ginjo yeast.
Sake Miscellanea
I'll wax philosophical about sake tasting, storage, production and many other things here. Feel free to ignore my ramblings.
Drinking Vessels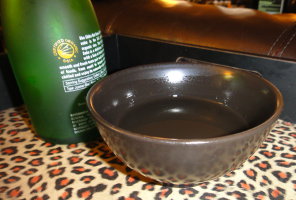 I've tried a lot of things, from typical sake cups to shot glasses to burnished Japanese Cedar masu... I've finally settled on a small glazed ceramic rice bowl which fits comfortably in my hand and holds roughly one masu, rather like a chawan.